The ReTracer Delay Workstation ready to ship! 
It's a great pleasure to announce that the ReTracer delay pedal is ready for the market.
The new EBS retracer delay is a complete workstation packed with features into a compact space saving pedal that make room for more effects on your pedalboard.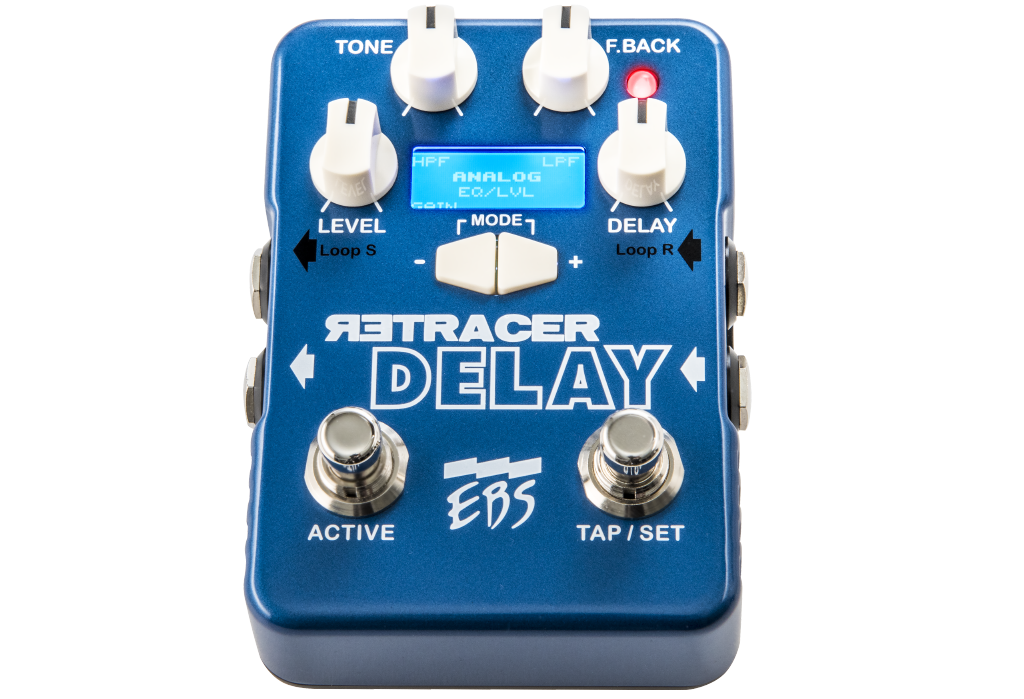 Possibilities
The ReTracer is a complete delay workstation with no limits! It offer tons of features usually found in much larger, heavier and more expensive delay units. That means you have access to a dozen different engines, can change parameters specific to the selected engine and create your own signature presets that you store at one of the more than 200 available slots and organize in different banks. Not to mention you can run this pedal in mono, stereo or dual (true stereo) mode, with Tail, Buffered or True bypass set individually for each sound (where applicable), extensive tap tempo settings, add other effects in a loop, connect with midi-devices and expression pedals, and a lot more!
Compability
The ReTracer comply with most Midi devices as well as external expression pedals and tap controls.
Size
The ReTracer is a compact, space-saving pedal with all the features normally found only in big space-craving boxes.
Price
The ReTracer is an affordable delay pedal considering the capabilities and sound quality it offers.
Simplicity
If you prefer simplicity over flexibility, stick with the factory presets or create a few go-to presets of your own and use the ReTracer's standard control knobs to set the mix-level, feedback, delay time and tone on the fly!
Precision
You can pick an engine that offer you precise repeats and dial in the exact time in ms with the ReTracer, but you can also pick an engine that let you mess with the parameters for more vintage/analog and modulated delay effects.
Sound quality
The ReTracer offer High Grade sound with 115 dB dynamics range, 24-bit audio with 48 kHz sample rate.
Technical Specifications EBS Retracer:
Nominal Levels: - 8 dBv
Maxium Input and Output Levels: +12 dBv
Input Impedance: 900 kohms stereo / 450 kohms mono
Output Impedance: < 100 ohms
Bandwidth: +0/-3 dB 20 - 20k Hz
Sampling Frequency: 48 kHz
Dynamic Range: typ 115 dB (A-weighted)
Power Requirements: 9 - 18 V DC Regulated,
Current Consumption: 200 mA max. @ 9V / 100mA max @18V
(DC power in has no other effect on headroom or performance)
CHECK OUR INSTAGRAM FEED & STORIES







 


 

 
NEW PRODUCTS * LIVE DEMOS * BACKSTAGE FOOTAGE * RARE GUITARS * CONTESTS & MORE!